FANTASY FOOTBALL PLAYERS CHAMPIONSHIPS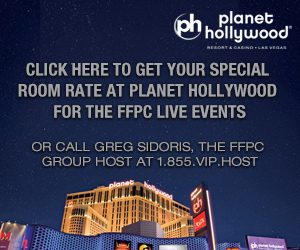 September 7-12, 2022 PLANT HOLLYWOOD, LAS VEGAS
September 7 (Wednesday), & September 8 (Thursday) = $79.00 per night / $25.00 daily resort fee.
September 9 (Friday) & September 10 (Saturday) = $179 per night / $25.00 daily resort fee.
September 11 (Sunday), September 12, (Monday) & September 13 (Tuesday) = $79.00 per night / $25.00 daily resort fee.
Live Drafts in Las Vegas or Online. Entry fees from $750 to $10,000 per team.
The FFPC High Stakes Leagues are individual, stand-alone leagues which are not part of any national contest. These leagues are offered in many various formats, some of which may be familiar while others are unique and different from anything you may have participated in before. All High Stakes leagues will be held as live, in-person drafts at the PLANET HOLLYWOOD HOTEL & Casino, center strip Las Vegas during the FFPC events in September. So, how does drafting without a cheat sheet in the Bare Knuckle Challenge sound? Does bidding for your draft slot with real money in the Off-The-Grid league peak your interest? Then you're in the right place, friend!
CONTACT FFPC/PLANET HOLLYWOOD EVENT HOST :
GREG SIDORIS 216-299-5390
CasinoConnectionUSA@gmail.com OR GREG@CASINOCONNECTIONUSA.COM
FFPC Events schedule; Live FFPC drafts. Thursday,September 8th, 2022,8:00 a.m. 

 Thursday Viewing Party: Doors open at 4:15 p.m. pst. @ Planet Hollywood, Mezzanine Ballroom. Free to FFPC team owners. September 8, 2022

Official NFL Thursday Night Game kickoff time, 5:31 p.m. pst. Thursday, September 8, 2022

Sunday, September 11, All day viewing party at Blondies / Miracle Mile. $200.00 per person. Guarantee seating. All games will be available to view. Food & Beverages included.  9:15 a.m. – 4:15 p.m. pst.
Once again, the FFPC will kick off its Vegas events in style by throwing the now legendary opening game viewing party. This will be the 10th annual Kickoff Party and it has truly become a FFPC tradition. Hundreds of fantasy football diehards in a giant ballroom, guaranteed seating and two huge projection monitors with a custom Dolby surround sound, showing the NFL season's first game of the year! Oh, and lets not forget you're in Las Vegas! What could be better than that? Well, we can't really think of anything as exciting as this that you can do with your clothes on! But seriously, it doesn't get any better than this. Actually……maybe it does. Free Casino Connection USA Halftime prize giveaway to the lucky winners.
The FFPC Kickoff Party is free for all FFPC participants! That's right, FREE!  
It is the FFPC's way of saying 'Thank You' to all the players that continue supporting our events. Any FFPC player who is listed as a primary participant for the FFPC Main Event or any of the Live Ancillary leagues on Thursday, Friday or Saturday can gain free access. In addition, each primary participant can also bring one (1) guest, free of charge. The Kickoff Party is also open to all other guests at a $50 admission which may be paid in advance or at the door, prior to entering.
But that's not all. Not only is the Kickoff Party free, there will be buffet dinner served with a great menu, compliments of the FFPC!
Also, beginning at 3:00 p.m. PT, come be an audience member in the live Fantasyland show that is being held right before the party featuring high stakes players and industry analysts.Registration for all events opens at 8:00 am and will remain open the entire day. Breakfast and Lunch will be available to players registered for those events.
We look forward to seeing you again or anticipate meeting you on game day!
If you have any questions please contact Greg Sidoris 216-299-5390 or email above.
Greg Sidoris